Benefits of Double Sided Storage Cases
12 February 2016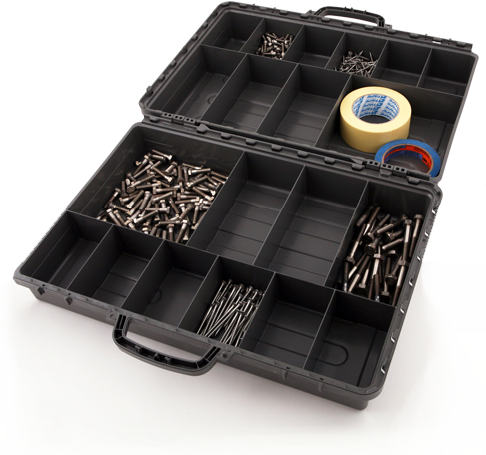 Double sided storage cases are one of the most innovative storage units on the market. They are the ideal tote for organizing craft supplies like beads, art materials, jewelry, scrapbooking materials, nuts and bolts, fishing tackle, trade industry supplies and many other odd items. The storage organizers have the perfect architectural design that makes items easy to find. In addition, double sided storage cases have two distinct lidded sides which open up in the middle. This type of design allows the case to lie flat plus it gives you access to what is essentially two separate organizers.
The compact and easy to carry case makes it simple for road trips or traveling. As well, the storage cases are perfect for keeping things organized and nicely stored away.
ABS Material and Construction
When it comes to high quality storage cases, the Exactapak and Multi 10 are top of the line. These Australian made and owned cases are original and quite unique. They have a streamline design with no overflow plus contents always remain locked in.
What makes them even better than the rest of the storage containers on the market is that they are crafted out of ABS construction. ABS or acrylonitrile butadiene styrene construction is a very durable material that is renowned for its toughness and impact resistance qualities. In addition, the material has a high tolerance for heat. What is more, ABS material is lightweight thus making it easy to carry.
Premium Interior
The inside of both the Exactapak and Multi 10 storage case is well structured. There are many different sized compartments so that holds a variety sized goods. And with the Multi 10 storage case, there are 10 removable red ABS insert tubs for additional storage.
Moreover, the internal lid is composed of clear polycarbonate so that you can easily see the content within. Polycarbonate is also very durable, lightweight, flexible and highly impact resistant.
Today's Market
Unfortunately, today's market is getting bombarded and flooded with cheaper imported copies of double sided storage cases. Not only are the mockups by far inferior in design but they do not hold up to the Exactapak and Multi 10 storage case quality and durability. What is more, the developers and manufacturers of these high quality storage containers are experts in polyutherane and all engineering plastics structures. And with using the highest quality materials, you are guaranteed to receive the best double sided and most innovative storage units on the market.
Optimized by NetwizardSEO.com.au