Double Sided Storage Cases: How They Can Be Beneficial for Hobbyists
15 April 2016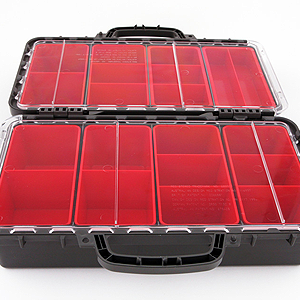 No matter what kind of hobby you enjoy, storage cases play an important role in keeping 'everything' in order. Whether it is holding little screws, stamps, googly eyes for stuffed animals, crayons, coloured thread, fishing lures and hooks, stickers, sketching equipment or any assortment of small parts that you use in your hobby, then you 'need' to have an effective storage solution that allows you easy access to your things.
There are many kinds of storage solutions for hobbyists, but out of most of the options available on the market, and there are many, double-sided storage cases are probably the best overall. These offer many benefits to hobbyists that are worth investigating, especially if you are serious about storing your things securely and safely.
Double Sided Storage Cases and Their Benefits
1. Easy sorting and organization
Hobbyists are fond of carrying, or needing a lot of things at one time, because you never know when you may need something? Double sided storage cases have a lot of compartments, as opposed to the single side ones, that is why they are more popular.
2. Great for traveling and safe storage
Have you ever been with family or friends on a trip or a vacation, and then realise that you had much more time on your hands than you thought possible and wish you had brought some of your things with you? Well, you can never be too prepared, especially when it comes to your passion. Double sided cases help you to carry everything you need, even when you are away from home you can still have your things with you.
3. Potential hobby surface
On the go hobbyists often requires a board or some other hard service to actually start doing things, or as a stage to show off your collection. Double sided storage cases allow you that privilege. Often made of the non-slippery materials, you can layout your charts, cards, coins or other hobby objects on top the open or closed case, at anytime and anywhere.
4. Economical and Functional
It's a fact, most little hobbies can easily become 'big' investments. Basically, most hobbies are not cheap to maintain, so whenever possible saving money on affordable cases just makes sense.
Are you a hobbyist or do you know someone who is and could use a hardy, double sided storage case? Good news, you will find just the right case here at Tip Top Plastics.
Optimized by NetwizardSEO.com.au